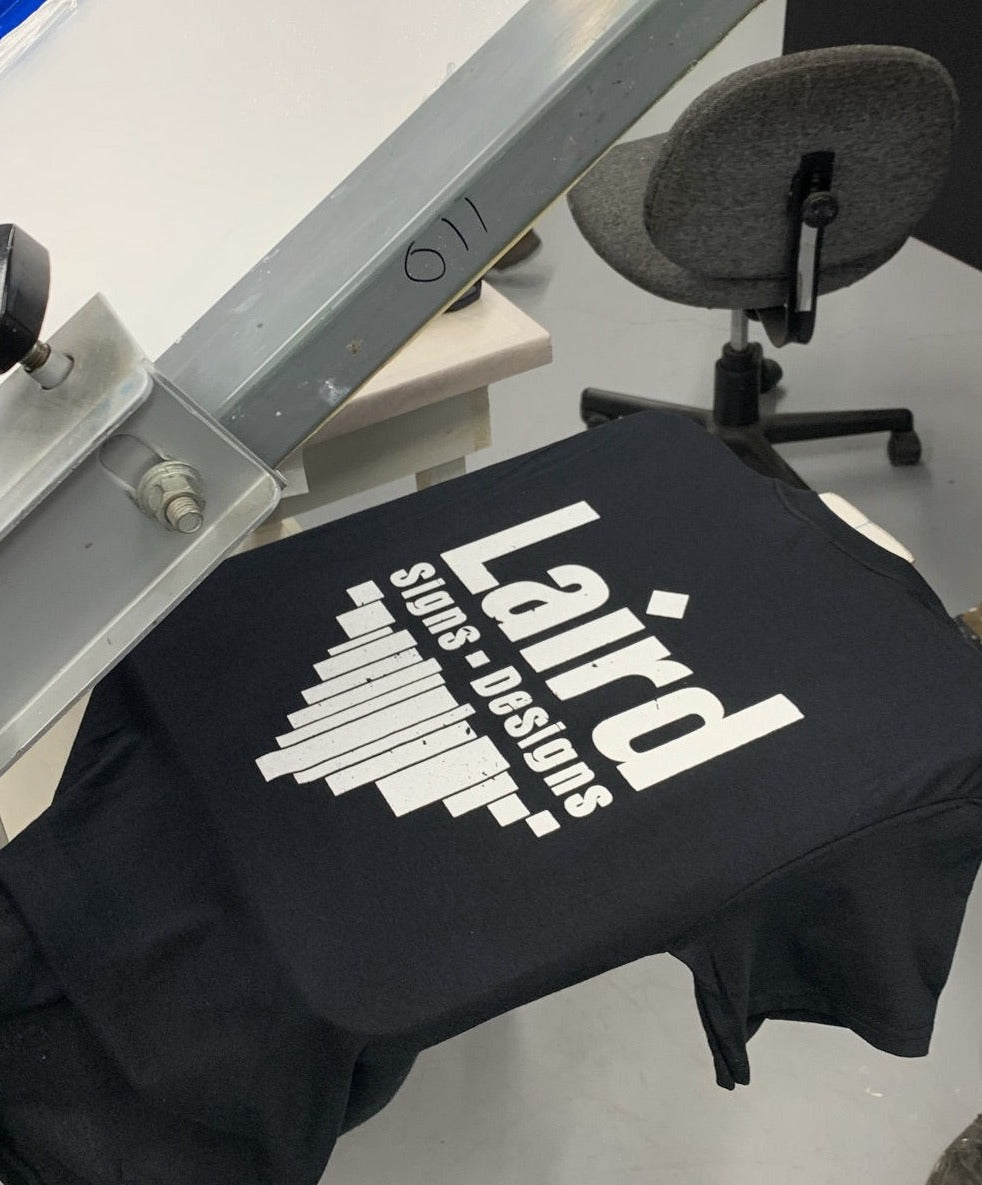 Custom Screen Printing
Screenprinting is the process of applying a permanent decoration to a garment by pushing ink through a stencil on a screen.
Screen printing is great for products featuring a bold design that needs the endure repeated usage. It is cost effective for large orders and gives a softer feel on fabrics. Screen printed shirts are great for advertising, organizational events, brand identity, business apparel, staff identification, and more. We can print up to 6 colours.
Screen printing also allows us to give options of ink types (ie. metallic, glitter or puff inks) to elevate your design.
Ink Styles
Plastisol Ink

Plastisol ink is one of the most commonly used screen printing ink type and has been around for decades.

Metallic Ink

Metallic ink can be used to make your apparel really stand out from the rest with a nice sparkly metal finish.

Fountain Print

Fountain Print is a technique we use on press to achieve a nice multi-coloured effect. It combines muliple ink colours on one screen so every print will look a bit different.
FAQs
IS THERE A MINIMUM QUANTITY?

Our minimum is generally 12 pieces for screen printing, but we can accommodate lower quantities. This is because it takes the same amount of time and labour to prepare the artwork for screen printing, produce the screens and set up the press to print 1 shirt or 500 shirts.
WHY ARE MULTIPLE PLACEMENTS MORE EXPENSIVE?

Each location requires a completely new screen setup and production run. Think of each location as being it's own individual job.
HOW IS PRICING DETERMINED?

Pricing is primarily determined by 3 things:

1. The product you select
2. Total number of colors needed for printing
3. Quantity in your order

Other factors such as design services or special requests can also affect the cost.